Happening LIVE October 4-6, 2021
Hosted by Karla Lim, Invite Designer + Biz Educator, and the Founder of Written Word Calligraphy & Design
Would you like to learn how to design high-end, luxury invitations?

Put on your creative hat in this 3-day challenge to dream up some heart-stopping invitations for 3 imaginary clients in gorgeous wedding venues and their swoon-worthy themes. 
What's the deal: 
Each day, you'll receive a moodboard + video that explains a little bit about the "couple". In total, there will be 3 different couples you'll be designing for. 
On a worksheet, you'll sketch out your dream invitations for this "couple". You don't need anything crazy here – just paper, pen and your imagination.
You'll share it on our #designyourdreaminvites FB group and get to see what everyone else has dreamed about!
I'm your Ahmed
I love making beautiful things with intention and purpose, and bringing them to life! I've been so blessed to work as a calligrapher and masters for 20+ years now and even more blessed to share my journey with you through this challenge.
This challenge is going to be so much fun – I mean, how often would you get a chance to design for a couple, with no budget constraints, and gives you 100% free reign? Let's get creative together! 
and remember no design experience required!!
Just pen, paper and your imagination. 
Last time, we had over 100+ people join us in this challenge and we created many pretty things!
So let's put on your creative hat and create something beautiful with your own two hands. You got this! 🙂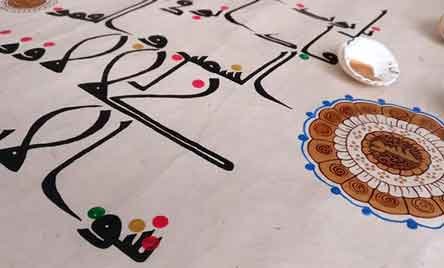 Are you ready?